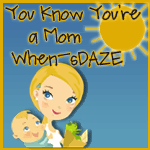 It's Wednesday again! Time for...
You Know You're a Mom When-sDaze.
In her words, she writes, "As parents, we constantly find ourselves saying things that we just can't quite believe came out of our mouths, or misting up over a few scribbles on a page, or finding ourselves in situations that could only be the result of having offspring.
*********************************************************************
I question whether or not it is wise for me to post this.
I understand that, upon seeing these photos, you may question my mothering skills.
I say this only because it seems I am finding myself in

this situation

quite frequently.
One would think that I might learn that this seems to be an issue in our family, and therefore, take the proper actions to avoid

this scenario

again.
And to my credit, I have officially learned my lesson.
Locks have been purchased and will be installed momentarily.
I'm betting you have NO clue who made this mess.
And I bet that you can't guess where all of this water came from!
But humor me, take a guess!
Why yes, the trail is leading to the bathroom!
As I gazed upon the wet floor, I clung to one hope only.
The hope that the toilet was flushed before it was so thoroughly emptied, cup by cup, onto the bathroom floor,
and then, subsequently into the hallway and living room.
But alas, the little pieces of wet toilet paper don't leave me hopeful.
Yes, you'd think I'd have learned my lesson.
When, only the week before we found our precious little "angel" here.
Yes, I am ashamed to admit that this was an entirely different occasion than the "event" displayed above.
In my defense, D-man was on "L-boy watch" when this unfortunate event occurred.
So,

technically

, I can't be held responsible.
I was only summoned to capture the scene on my camera.
And my child has a deep interest in all things "toilet"
This insatiable

curiosity

is becoming problematic.
I will do my best to make sure this never happens again.
All of the necessary precautions are being taken.
And if it does happen again.....
You WON'T find it here on this blog!