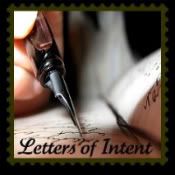 I am joining Julie's "Letter of Intent" Friday's today. And do you know why? Because I have a letter of intent to write. And because I think

Julie

has a really

suh

-

weet

name.
Dear Blogger (the company),
Oh where, oh where is my menu bar? Oh where, Oh where could she be? Look up...she used to be perched right above this post, always smiling back at me. I don't want to sound rude, but I worked on that menu bar until my fingers bled. I am no computer genius. I never took a class on writing HTML code. Therefore, in order to make that menu bar...I had to dig deep within myself. I had to open up numerous tutorials and click back and forth between them as I painstakingly pieced together my menu buttons. I was so proud of myself when they were done. And when they were not centered and spaced correctly, I dug deep again and found the code that was needed.
I must say I am a bit perturbed that my menu has mysteriously disappeared. In fact...I looked just about everywhere I could...and it is gone. G.O.N.E. I don't want to make threats...but do the words Typepad or Wordpress mean anything to you?
So I would like to know what YOU are going to do about it. I simply do not have the time or mental energy to complete such a mundane task again. I respectfully ask to be reimbursed in some way. Whether it be a simple letter of apology or a cash reimbursement for the hours wasted, I would be satisfied with either. And while you are at it. Could you please find my menu bar? Because I really liked having one. It made me feel "grown up".
And...one more thing. I want you to stare hard into the face of this child.
He has needs. Lots of them. And, yes, he happens to have pig tails in..do you have a problem with that? Like I said, he has needs. I know that in good conscience you wouldn't want me to waste a minute more of my time in trying to sort out this unfortunate event. So...the next time I visit my blog...I expect to see my menu bar...smiling back at me.
Thank you for your timely response. Don't make me come after you.
Because I will.
Respectfully,
~Julie