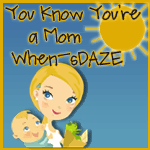 Arizona Mamma, over at
hosts this fun little meme.
In her words, she writes, "As parents, we constantly find ourselves saying things that we just can't quite believe came out of our mouths, or misting up over a few scribbles on a page, or finding ourselves in situations that could only be the result of having offspring.
******************************************************************************************************
I just wanted to take one single minute to thank each one of you for your sweet comments on this weeks Mom n' Me post.
I actually did get a bit choked up as I looked at that picture throughout the day.
Not only does it capture exactly how I feel about my children...
But it was taken by my nine year old son.
My son, who hasn't always had an easy road.
My son, who doesn't always "fit in" socially.
Sometimes I wonder if his mind will ever just be at rest.
He always has a plan, and usually finds it difficult to be at rest until that plan is in motion.
He often wonders why everyone can't just "fit in" with his plan.
I loved that picture because C-boy captured it.
He zoomed right in.
After viewing the final result on the screen, he oozed, "Mom, you're gonna LOVE this one!"
He read every one of your sweet comments.
He beamed with pride.
"Really?", he said sheepishly.
Really, I said!
So today, I'm sharing a few more.
These were all taken the first day he had his camera.
We had great fun playing with them in photshop.
What I love about these, is that I didn't crop any of them. (with the exception of one, for modesty's sake!)
These are simply the angles he captured.